To make recruiter's and HR professionals' job easier, we are bringing a beta version of the upcoming Video interview service. Talk with your applicants online and comfortably, without the need for a face-to-face meeting. It is simple, fast, and free to use.
Schedule an online appointment directly while managing the selection process in mark. You can send the video interview invitation to multiple attendants at once, including colleagues in a copy of the email.
How to proceed with a video interview?
Log in to your company account on Profesia.sk and then:
In the upper menu, click on "Your applicants in mark - Selection processes" and open the selection process.
Select the applicant and choose "Schedule event - video interview".
Fill in the details about the event and check the box "Send an invitation to the candidate".
Use an e-mail template or your own text and add the video interview link and PIN via variables.
TIP: If you want to invite more people, e.g. manager or director, simply add them to BCC. Number of connected people in "your online interviewing room" is not limited.
After the invite has been sent, you and the candidate will receive a confirmation e-mail with the date, a link for the video interview and a unique PIN number, necessary to log in to the video interview.
Video interview via computer
On the day of the interview, you need to use the button in the e-mail to get the interview started. An application will open in a new window and require the PIN number from your e-mail. After entering the PIN number, the video interview will begin. For seamless run of the video interview we recommend to use Google Chrome internet browser.
Scheduling of the interview in Company zone in mark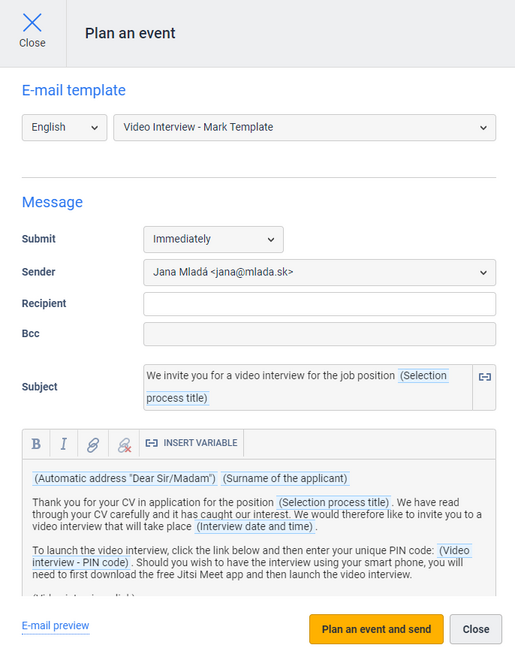 To start the video interview click on the button "Start video interview" in the e-mail you have received and enter PIN from the e-mail.
Video interview via smartphone
If you want to use your smartphone, you need to download an app called Jitsi Meet (for free) beforehand. You can download the app in Appstore or Google Play. Or, you can use the button "Start video interview" in your e-mail, and it will direct you to download the app. After, you need to use the same button again to start the interview.
The video interview is live and there will be no recording from it.
How to make sure, that your video interview is successful?
Important information for company network administrators
In order to ensure a correct functioning of Profesia video interviews it is necessary to open outgoing UDP traffic at port 10000 either for all IP adresses (0.0.0.0/0:10000) or at least for Profesia server (35.195.42.65/32:10000).
Technical difficulties in the beginning of the video interview can be stressful for people, who are not prepared. Look at a couple of simple steps, how to make sure, your video interview is successful.
Ensure, that you have a quality internet connection and check with your company network administrator that the necessary communication ports are open
The video interview can be done via a computer or a smartphone. If you decide to use your phone, you need to download free application Jitsi Meet beforehand. (download in Appstore or Google Play)
Make sure, that the camera and microphone on your device are turned on.
Do the interview in a quiet undisturbed place with a good lightning. Mare sure, you have enough time.